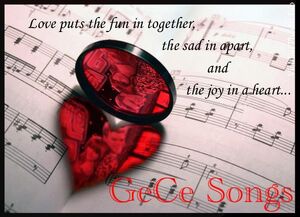 GeCe Songs are songs that relate to Gunther Hessenheffer and CeCe Jones' relationship.
The idea came after our admin, TopessaSeddie, added a song list on the GeCe page on the Shake It Up Wiki on December 28, 2011. Since then, the page has accumulated over 100 songs that fit GeCe's relationship.
On July 9, 2012, it was decided that the songs would from now on be split into volumes.
Ad blocker interference detected!
Wikia is a free-to-use site that makes money from advertising. We have a modified experience for viewers using ad blockers

Wikia is not accessible if you've made further modifications. Remove the custom ad blocker rule(s) and the page will load as expected.